TTI After Dark: If Tennis Players Were Mean Girls Characters (An Analysis)
Mean Girls Appreciation Day is finally coming to an end. The moment when Aaron Samuels asked Cady Heron what day it was is forever ingrained in the minds of this generation. As The Tennis Island finishes up its celebrations, let's have one last hoorah by comparing the four leads in Mean Girls to some of the WTA's stars.
Serena Williams – Regina George

The case for Serena as Regina George could be summed up in this video.
Or this picture.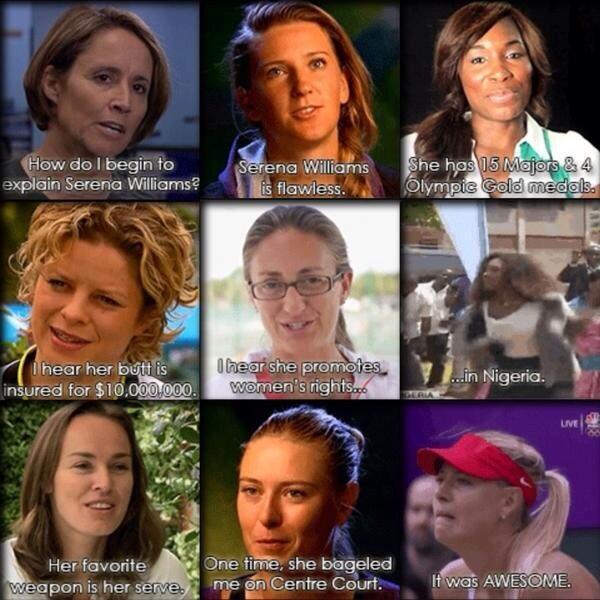 Serena is the reigning queen bee of the WTA, and everyone knows it. Everyone respects her, fears her, and wants to be her. Though Serena is most likely not as mean as Satan's Incarnate Regina, she knows when to be mean on and off the court. She's like Regina in terms of her power and reputation, so don't expect Serena to have a meltdown and get hit by a school bus anytime soon.
Can Serena (Regina) keep her No. 1 crown by the end of the year? Will a young gun like Halep (Cady) give her a run for her money? Find out next time on Mean Girls 2!
(Just kidding, nobody watched that trash.)
Victoria Azarenka – Gretchen Wieners
Can't you imagine Azarenka saying, "I don't think my (ex)boyfriend, RedFoo, would be too pleased to hear about this."? Well, I can. Azarenka is perfect as Gretchen, not because she is like the insecure and extremely wealthy Gretchen, but because of how similar the events in the movie are to this past year for Azarenka.
"So then, Serena told me I couldn't wear hoop earrings, because they were HER thing!"
Azarenka spent a good amount of the year injured while other people got to win trophies and do well – the tennis version of someone giving out candy telegrams and saying, "And none for Azarenka, bye." At the end of the movie, Gretchen joined the Cool Asians after the Plastics disbanded. Therefore, we can infer that Azarenka will be changing nationalities and join an Asian country soon.
I'm sorry people are so jealous of Azarenka, she can't help that she's so popular.
Caroline Wozniacki – Karen Smith
Although Wozniacki isn't a complete idiot like Karen, she is still a fixture in Serena's clique. She's super funny and nice just like Karen who was the kindest of the Plastics. Maybe Wozniacki has some Tennis "ESPN" like her counterpart Karen. Wozniacki seems like the type to try and shade somebody only to realize they're right next to her.
"We can't have pizza, Caro – I'm on an all-carb diet!"
Also, I can totally see the Woz being a Taco Bell fan.
Simona Halep – Cady Heron
"Was I the new queen bee?"
She's the new kid on the block just like Cady. As Cady tried to figure her way out through the jungle that is high school, Halep's still in transition mode after becoming one of the stars of the WTA at the tender age of 23. Though Halep probably doesn't have an evil side like Cady, she still has the means of being queen bee of the WTA. At No. 2 in the world, she could totally take on Serena for the No. 1 spot in the upcoming year.
However, unlike Cady, Halep will try to use her skills on the court to become the best and not sabotage Serena by giving her Kalteen bars to make her gain weight.
I, for one, can envision this conversation happening at one point in time.
@ovafanboy @faiferreira @vrcsports @Hurleytennis Serena: "Your forehand is really great." Halep: "Thanks." Serena: "So you agree? You think

— alex (@Ajdesasha) October 3, 2014
@ovafanboy @faiferreira @vrcsports @Hurleytennis your forehand is really great?"

— alex (@Ajdesasha) October 3, 2014